They didn't know about the blood. Not yet.
In the darkness, Sam Griesel knew something was wrong. Overheating, delirious and nauseous in a hotel room, he made his way toward the bathroom. He didn't quite make it there, instead sprawling out on the cold tile floor in a desperate quest to find comfort.
As he rested face-down on the ground, time began to distort for Griesel. He has no recollection of how long he laid there before he began to vomit repeatedly. Griesel's hotel roommate, Willie Guy, awoke to the groaning. Guy initially thought Griesel had food poisoning before he realized Griesel wasn't in the bathroom; he was on the floor in front of Guy's bed calling out for him by name and asking for the athletic trainer.
"Do you want me to turn the lights on?" Guy asked.
"I don't know if you want to see me like this," Griesel said.
"I don't care how you are," Guy said. "You sound like you're in pain, so I'm going to turn the lights on."
As the lights illuminated their room, Guy jumped out of bed.
Griesel's blood was everywhere. The large puddle by his face contained undigested remnants from dinner. His arms were covered in blood, as were his head, hands, legs and his chest.
"My first thought was that he threw up his intestines or something, but it was just spaghetti," Guy told the Journal Star. "He threw up a lot of blood. A lot, a lot of blood."
Doctors estimated the 6-foot-7 Griesel lost more than half of his blood that night.
The culprit: a yet-to-be-diagnosed bleeding ulcer in Griesel's stomach.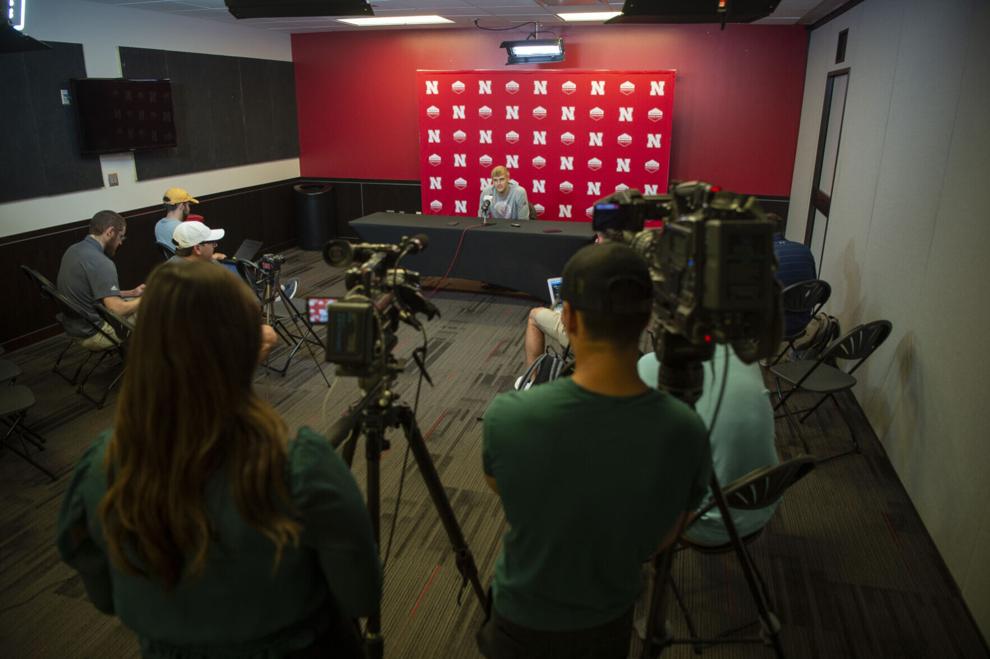 This week marks the one-year anniversary of Griesel's harrowing medical emergency. He took a month to fully recover from it, then played some of his best basketball in his final year at North Dakota State. This season, his last year of eligibility, the Lincoln East graduate transferred home to play for Nebraska.
He has a refreshed outlook on life because, on, Nov. 11, 2021, Griesel came close to dying.
"One hundred percent the scariest, most traumatic experience of my life," Griesel told the Journal Star. "But it's one of the things I'm most grateful for that has happened in my life — which is a little bit weird to say. But I gained such a great perspective from the whole experience.
"I was able to get my priorities straight and just cherish each and every day, and not get so caught up in the little things. Life is so much bigger than any one of us can grasp. And basketball is something that I get to do every day; it's not something I have to do. It's a privilege that I get to play."
'SHE THOUGHT I WAS DEAD'
Griesel took his usual place in the starting lineup for North Dakota State's season opener, but something was off.
Conditioning is never an issue for Griesel. He averaged 33 minutes per game in his last two seasons. In what was, in essence, a glorified exhibition game against Division III Concordia-Moorhead, he was on the floor for 14 minutes — essentially taking himself out of the lineup after he felt tired and had trouble breathing.
"That's never happened in all his years of basketball," his mom, Kathy Griesel, said.
At halftime, Sam was evaluated by the team doctor. Though the doctor wasn't worried, Sam was held out of the second half. The sentiment: it's a blowout and the season opener, just rest up. The next day, Sam went in for a follow-up exam. His heart and lungs were checked, ruling out COVID-19, respiratory and cardiovascular issues.
"Everything looked fine, looked normal," Griesel said. "I guess that was like the first initial sign things were wrong, but we didn't really think anything of it."
North Dakota State took to the skies to kick off its three-game West Coast road trip. The slate: at Cal Poly on a Friday, then to Las Vegas to face UNLV on Monday and Tucson for Arizona on Tuesday.
After arriving in San Luis Obispo, the Bison practiced at Cal Poly's gym. Griesel still felt lethargic and winded but made it through the workout. Griesel and his coach, Dave Richman, discussed how Sam felt and agreed to have him play around 30 minutes against the Mustangs.
From there, a late dinner — marinara and meatballs — before bed.
Griesel, as a self-described "old man," prefers to watch a movie or read a book on the road, rather than play video games with his teammates to wind down for the night. On the night of Nov. 11, Griesel and Guy cracked jokes and watched "SportsCenter" before they turned off the lights at 10 p.m.
Griesel's memory gets hazy from there.
He's fairly certain his spiral began with a temperamental air conditioner — "I don't know if this actually happened, but I'm pretty sure it did," Griesel offers. As the air conditioner came on and the fan blew, he started to fall asleep. But 15 minutes later, it kicked off and he'd start to burn up inside.
The air conditioner cycled two or three times, Griesel said, before the nausea set in around 10:45 p.m.
"Oh, I'm definitely not going to be able to play," Griesel thought moments after vomiting for the first time.
Those thoughts turned darker as minutes passed.
Guy called Trisha Shannon, NDSU's assistant trainer, who immediately answered the phone and rushed to their room. Once the door opened, Shannon panicked, Griesel said.
"She thought I was dead," Griesel said. "She was definitely more traumatized by the whole experience than I was, because I didn't necessarily see it from her point of view. She walked in and I was, obviously, incredibly pale-skinned, literally laying on the floor with blood all over my head, by my head, on my body, everywhere."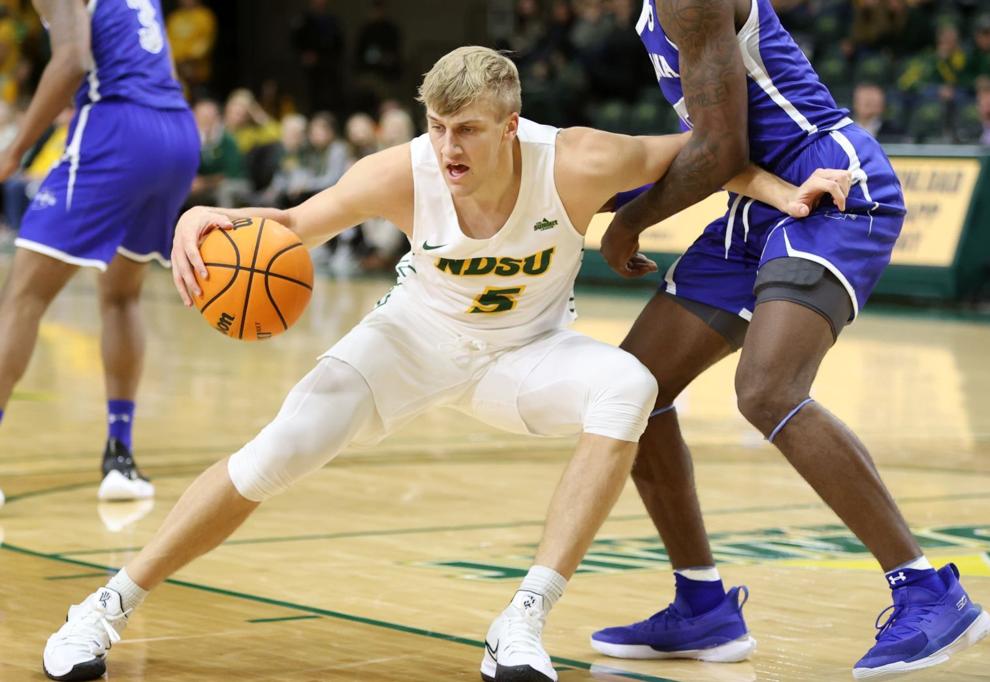 Shannon frantically called 911, something Guy said he almost did in the first place before Griesel requested Shannon.
"I was debating on calling right away because I was looking at that much blood," Guy said. "You don't lose that much blood and just call for the trainer."
Still nauseous, Griesel tried to sit up, to no avail.
With each attempt, his head immediately fell to one side or the other.
"I was just a shell of a human being," Griesel said.
Firefighters and medics arrived shortly thereafter.
Griesel knew his condition was serious when he realized he had thrown up blood, but the realities of the situation settled in more after emergency personnel took over the hotel room.
"I remember thinking, 'I have no idea what's wrong with my body right now. I'm in no control of what's happening.' I thought I was …," Griesel said, trailing off.
"There was a good chance that I was …," Griesel said, stopping short of finishing the sentence.
'SHOULD HAVE BEEN IN A COMA'
Griesel's anxiety calmed slightly after an EMT finally — after 10 tries, probably — got the needle into his right arm to begin adding fluids. Once that was placed, first responders helped Griesel onto the stretcher and wheeled him down the hallway into the hotel's elevator.
Griesel felt two soothing influences as he stretched across the gurney.
The first, a 12-year-old kid from Fargo named Landon Solberg.
Griesel befriended Solberg after his brain cancer diagnosis. Through Solberg's battle, he remained "the most mature kid I've ever met in my life," Griesel said, adding that he "admired so many things about him."
Solberg died in September 2019.
"When they were rolling me out, I felt him in a way," Griesel said. "It was a weird experience and really hard to explain, but it gave me a sense of calmness because I knew he was with me. And not that he had gone through the same thing that I had gone through, but I just felt a sense of peace because of him.
"Just knowing he was there with me, I got past the whole, 'Oh my gosh, am I gonna die?"
The second, well, let Griesel explain.
"Have you ever seen 'Ted Lasso'?" Griesel asked.
One thing Griesel discovered about himself is he copes with trauma through humor, like the titular character of the Apple TV dramedy.
Griesel's self-soothing jokes began shortly after feeling Solberg's presence.
"I was just in my underwear. And I was like, 'Oh thank God we're in California, because if we were in Fargo, I would be freezing when we get out there,'" Griesel recalled.
Griesel continued the jokes through the short, 4-mile ambulance ride from the Hampton Inn & Suites to the Sierra Vista Regional Medical Center. He was "talking a little s***" with the first responders, saying North Dakota State was going to beat Cal Poly in an effort to distract himself.
Once at the hospital, Griesel wasn't allowed to have anyone in the emergency room with him at first due to COVID-19 restrictions. Richman and Shannon, though, were in the waiting room.
Through additional testing, the medical staff theorized Griesel had a bleeding ulcer. That's when he began to understand the severity of his condition.
"I was just like, 'Oh, I threw up a lot of blood. This was pretty damn scary," he said. "I didn't grasp the whole intensity of the situation until the doctors were like, 'You probably should have been in a coma. And you got pretty lucky, you've lost all this blood. It's pretty bad.'"
Shannon eventually was allowed back with Griesel, and she handed him his phone.
At 1:30 a.m., Griesel called his mom.
'YOU SHOULDN'T HAVE THIS'
Kathy and Achim Griesel had flown into LAX, and finally arrived at their hotel around midnight.
Their plan was to drive along Highway 101 to San Luis Obispo in the morning, but a late-night phone call from their son altered their itinerary.
"He said, 'Hey, I'm in the emergency room. Ha ha,'" Kathy recalled. "He was trying to joke about it. We did not know how serious it was, other than OK, he's in the emergency room."
Kathy was far too exhausted to drive, and without knowing the details, she thought they'd get a little sleep before heading up to San Luis Obipso bright and early. Achim, after 10 minutes had passed since Sam called, decided, "No, we need to go now."
When Sam's parents walked into his hospital room around 5:30 a.m., the first thing they noticed was just how pale he was and how white his lips were.
Kathy's mind shot back to when Sam was hospitalized as a child with salmonella.
"That was a very scary looking picture with that little guy. So this was not that bad," Kathy said. "He could move and talk. I felt better when I saw him actually. Just because you can see him, touch him. Like, OK. It's gonna be fine."
The gastroenterologist arrived in the morning and after evaluating Sam, decided to do a scope. That procedure was scheduled for around lunchtime. Not needing emergency surgery put the Griesels at ease.
The NDSU team was informed of Sam's status around the same time, over breakfast. Richman, who hadn't slept much, was emotional delivering the news to the team, Guy said. Griesel's hospitalization was made public shortly thereafter, which sent Sam's phone into a constant buzz. Replying to all the texts, Instagram messages and Snapchats kept him busy until he was wheeled in for his procedure.
As nurses rolled Sam into the operating room, Kathy and Achim tagged along.
Once arriving, another nurse walked in after having been briefed about Sam's condition.
"'What's a 21-year-old kid doing in our room with a bleeding ulcer?'" Kathy recalled the nurse saying. "'You shouldn't have this.'"
The procedure was smooth. The GI doctor performed a scope, going down Sam's throat, to find the bleeding ulcer in his stomach and cauterize it.
Sam learned more about the severity of his situation while in the recovery room. He was informed his hemoglobin level was at 7.1. He's usually between 15 and 16, a healthy level for adult men. If his level had dropped below 7, he would have needed an immediate blood transfusion.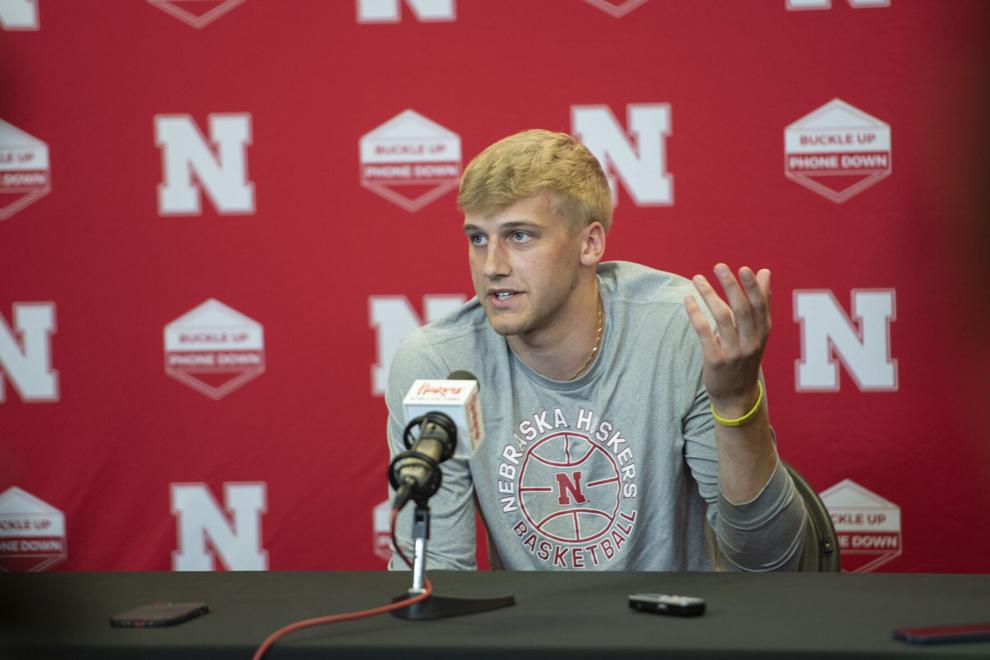 Because Sam is otherwise healthy, doctors in San Luis Obispo thought he would bounce back rather quickly. The Griesels were under the impression he'd be close to normal by the following weekend.
Sam was discharged from the hospital the following morning, but from his recovery room he tried convincing everyone within earshot to let him attend the Cal Poly game — even though it tipped off just a few hours after his procedure.
Sam begged his nurses to let him go. What if he went in a wheelchair? What if he went in the hospital bed? What if he brought five nurses with him?
"He was all loopy from the anesthesia and he said, 'Dad, we gotta figure out a way to get to the game,'" Achim said. "I said, 'Well, Sam, I don't think that's the best idea right now. Plus, you look really scary.'"
Sam added with a laugh, "I tried my best."
He managed to watch a solid portion of the first half before falling asleep. When he woke up, he rushed to check the final score. North Dakota State 60, Cal Poly 57.
'HEADED IN THE RIGHT DIRECTION'
Sam wanted to take a shower. It had been at least two days.
After being released from the hospital, Sam went with his parents to their hotel room in San Luis Obispo and immediately headed for the bathroom.
Ten minutes later, his weakness was on display.
"He's like, 'I could barely get myself out of the shower,'" Achim said. "That, for him, was a little bit of an eye-opener."
The Griesels met back up with the team in Las Vegas and Sam sat on the bench for the UNLV game.
Once back in Fargo, Griesel had multiple blood draws per week to monitor his hemoglobin levels. With each test, similar results: only incremental gains up to 8.5 or 9. He dealt with the associated side effects, including headaches, for a couple weeks. By late November, his numbers remained lower than anticipated, so his doctors in North Dakota decided he needed a blood transfusion.
Griesel felt "instantly" better after the four-hour transfusion. His levels jumped to 11. An iron infusion followed in early December. All of that — paired with a follow-up procedure to ensure the ulcer cauterization was successful — helped get him back on the court on a drastically reduced basis from the norm.
His first game back came against Montana State in Bozeman. He started but only played 15 minutes. His shots weren't falling and he still felt off, but just getting back on the court was welcomed progress.
NDSU got destroyed, 68-49, so 5 a.m. sprints were on the docket for the Bison the following day. Griesel struggled to get through the workout, only managing to run 25% of what the rest of his team did.
Three days later, Griesel took the floor again, this time at home against Cal State Northridge with Richman cranking up his minutes. He was, though, still not 100% — scoring two points and adding five rebounds in roughly half the game.
"I definitely didn't feel like myself (against Montana State) but it was a relief to know that things were getting better and headed in the right direction," Griesel said.
'LIKE A MOVIE SCRIPT'
Griesel dropped to his knees, holding his head in his hands.
For a brief moment inside the Scheels Center, his parents worried that their son was sick again. Instead, tears welled in his eyes, as his emotion completely overwhelmed him.
Seriously can't find the words to describe tonight. Can't thank my family and those that have been a part of this whole process enough. I'm forever grateful for you guys. God is good!🙏🏼❤️ pic.twitter.com/A84cHrc4nK

— Sam Griesel (@SammyG_22) December 14, 2021
His final line against Indiana State on Dec. 13: 25 points, eight rebounds and five assists in 29 minutes.
"I broke down in front of everyone," Griesel said. "Like, I didn't know if I was gonna play basketball again or see tomorrow. And the fact that I was finally back to feeling like myself? That's a game I'll remember for my whole life. It might be No. 1 on my list of basketball games ever, and I've played in some pretty cool ones."
The Sycamores led by 11 in the second half before Griesel and Co. chipped away at their lead. The tides turned after Griesel knocked down back-to-back buckets to kick-start NDSU's 12-point run that gave the Bison a lead they never relinquished. Final score: NDSU 77, Indiana State 70.
Of Griesel's scoring, nine of those points came from the charity stripe. Six of Griesel's free throws came in the final five minutes.
"It was definitely like a movie script," Griesel said. "My life in the last year and a half has been like that, little bit of a movie script."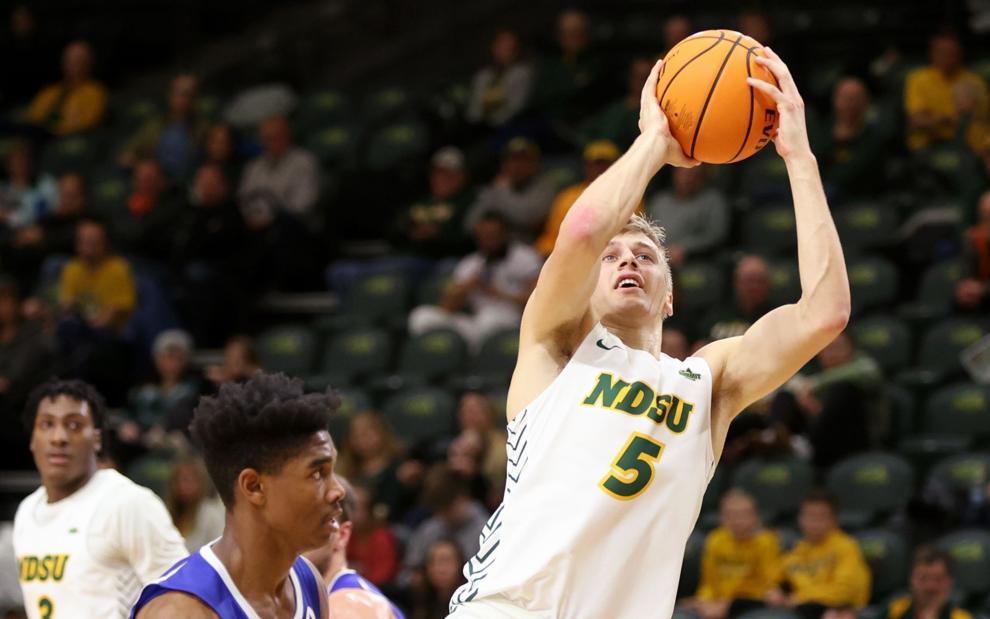 'A DREAM OF HIS'
It's hard to not think about the "What Ifs."
What if this happened in Fargo when Griesel was home alone? What if Sam had been rooming by himself on the road? What if Guy was a heavy sleeper?
"Obviously death could have been a part of it," Griesel said. "But, obviously, I'm very thankful that I had a roommate and I'm here today."
It's been nearly a year since his ulcer was discovered, and no one is certain as to how it developed.
The two most common causes of peptic ulcers — an infection with H. pylori, a bacteria, or chronic use of ibuprofen or Aleve — were ruled out in Sam's case. Either way, Griesel said he's never taking those medicines again.
"No one else ever had another theory for why a 21-year-old had a bleeding ulcer," Kathy said.
In a season that began with his ulcer, he finished the year averaging 14.3 points, 6.6 rebounds and 3.5 assists per game — earning first-team All-Summit League honors.
A few weeks after his season ended, Griesel entered the transfer portal.
He committed to Nebraska less than a week after declaring his intentions to transfer, but not before hearing from nearly two dozen schools, including Creighton, Penn State, Ohio State, Georgetown, Stanford and Northwestern.
Cross-country interest aside, Nebraska is where he's always wanted to be.
When Sam was 10, as Achim remembers, they were in the car, driving to some sporting event.
Unprompted, Sam asked, "Why does everybody in Nebraska only talk about football?"
Achim and Kathy told their son, well, football is what Nebraska is known for.
"'Wait until I get there,'" Achim remembers little Sam saying.
Twelve years later, Sam is here.

Husker hoops officially adds Sam Griesel. Here's what Fred Hoiberg says about him

Griesel, a Lincoln East grad, excited about chance to mold his game with U20 German National Team

12-month roller-coaster ride for East grad Sam Griesel capped with trip to NCAA Tournament

Back from hip surgery, Sam Griesel is using his 'old man' game to his advantage
Photos: Nebraska men's basketball beats Chadron State in exhibition